Concept Game Idea – 'Slingshot'
6 Comments | Posted by Agent Henrik in Game Ideas, making games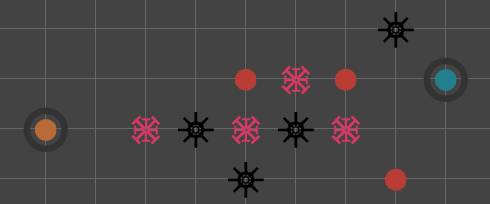 'Slingshot' is a game concept that I worked on myself and it has not been made into a playable prototype (yet). With Slingshot I set out making a concept with complete focus on player input. The idea is to start designing something that feels good to play, where the motions makes sense and are designed for a touch device.
The first draft of this game idea was done on paper, trying to draw interesting puzzles and patterns to trace lines around – When the paper-prototype seemed interesting, I proceeded to put together a video to explain the idea to the other Voxels (you can see the video below). The next step is to build a playable prototype, and then from there come-up with an interesting theme and mood for the game. This is just one type of development process we're trying, in another project it might go in the reverse order (Theme -> Gameplay vs. Gameplay -> Theme).  One of the great benefits in working at The Voxel Agents is that we get to find these things out as we go. I am given a lot of freedom and leeway in how I approach game design and prototyping.
Here is the pitch-video for Slingshot. Keep in mind that this NOT our next game but one of many concept we're working on:
Music credited to:
spoonybrad
Song Title: Puzzler's Block
6 Comments for Concept Game Idea – 'Slingshot'
Leave a comment!