Time-Travel Treasure Hunt.
8 Comments | Posted by Agent Henrik in Game Ideas, Games, making games, Top Secret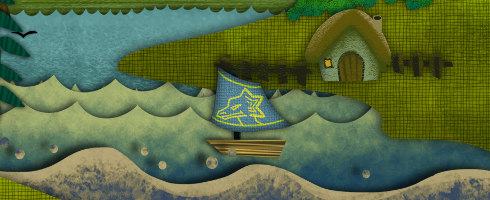 PLAY
This prototype is one in a series of time mechanic puzzles we've been exploring recently. Tian and I created this prototype and with some additional coding help from the other Voxels. It progressed from concept to prototype in just three days. While this concept as it stands will probably not be something we develop further, it has spawned some very interesting derivative ideas and creations.
I particularly believe in the navigation controls and we've been developing some quite special with them. Hopefully we'll be able to show you this in the near future.
Time-Travel Treasure Hunt is a an observation-puzzle game where the players goal is to locate stars which are hidden in a scene. The scene changes over time, playing back a simple story, and the player can follow the events from start to finish or can reverse and scrub time however they please. As the scene unfolds, objects and patterns will collide and overlay each other to form a star-shape. The player must observe these shapes, and click them at the right moment to identify where they are hidden.
Here's an example of 3 animated shapes dancing and having an absolute blast in the snow. Can you see when they align to form a star?
Click the link below to play the game! Rules:
Locate the stars in the animation and click on them when you spot them. We don't mean the obvious stars in the night sky, but the hidden stars formed by shapes and patterns, as well as pink stars.
Use the scrubber to scrub time backwards and forwards, and use the arrow keys to jump a single frame at a time.
Pink stars will briefly appear for just a split second and it's only possible to click them when they are visible.
Other stars have been cleverly hidden in the environment and take shape when objects align.
There a total of 10 stars. See if you can find them all. Click here to play:  Time-Travel Treasure Hunt [35 MB]
animation, art, game, henrik, inspiration, play, prototype, stars, tian
8 Comments for Time-Travel Treasure Hunt.
Leave a comment!