Voxel Afternoon Tea! 1st Session
1 Comment | Posted by Agent Tian in Art, Game Ideas, inspiration, Misc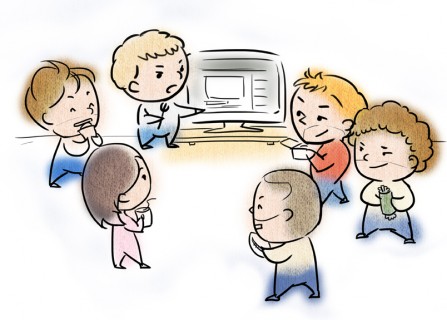 The Voxel Afternoon Tea! Sound's awesome, doesn't it?
As creative individuals we are always producing new ideas, but how can we continually produce without also absorbing ideas?
So, we came up with this idea of holding an 'afternoon tea' session every Friday lunchtime. During tea each Agent shares something that they have recently discovered or found interesting and we all discuss.
We thought you might be interested to check what each person shared!
Name: Agent Matt
Material shared: Not Tetris 2
Play it on: http://www.stabyourself.net/nottetris2
Reason for sharing: I think it's an interesting subversion of a classic game. The 'broken-ness' of it just works, and it is self documenting.
Henrik: I'm impressed of the product. It's been taken way beyond what he needed to show the concept. I'm not entirely sure what the developer is trying to tell or show us more than that its works but regardless I'm impressed.
Simon: I like how the whimsical controls match the developer's attitude in destroying a classic 😀
Tom: Subversive! Loved how he broke the rules of tetris by making the blocks not behave the way they should, but the players objective remained the same. I'd love to see someone clock this game (see http://www.youtube.com/watch?v=keeSEJG4XzU).
Tian: It's interesting to watch it, but I don't think it will be as enjoyable as the original Tetris…
Ramsey: Great Rehash on a classic, lovin it bro

Name: Agent Henrik
Material shared: Amnesia Dark Descent Gameplay Video
Reason for sharing: Along with Limbo, Amnesia was the best game I played last year.


Reflection
Matt: Watching videos of people's reactions is always interesting. It's incredible just how psychologically hooked people can get, even though they can just walk away at any time.
Simon: Amnesia looks like an horrifying ride and I want to take it 😀
Tom: I need to play this game, but after watching that video I also need to play it on skype with Simon.
Tian: I was worried at first when you told me it's going to be scary, because I tend to scream if I see something scary. But I didn't and it was kinda confusing… and funny. However I still would not play the game, just because it's a scary game and I've experienced enough scary things.
Ramsey: Looked fantastic, I'll get on it as soon as I grow a pair to play horror games lol. It seems the developers really understood how to manipulate the emotions and fear of the player and tweak it to ALMOST the point of snapping.
Name: Agent Simon
Materials shared: Live coding!
Reason for sharing: These guys inspired some of my final year work at uni and have been an ongoing inspiration. I like the idea of using a computer as an instrument, and not just to play samples, but to use it's logic to generate interesting melodies on the fly.
Reflection
Henrik: Much admiration to the people who travel in new direction of creativity. Extra interesting since it's an area I too wish to explore.
Matt: Code as performance is awesome!
Tom: Loved the performative aspect of this. Reminded me of conditional design more than generative design.
Tian: It's always amazing for me when someone can do both art and programming. They would have some really symmetrical looking brain I think. 😀
Ramsey: Future sailors, taking retro to its logical conclusion! Boosh aside, this looks really cool and I'd love to see where these guys end up creatively in a year or two's time. It seems to me that once they master their tools ( which they created lol ) they will definitely come into their own.

Name: Agent Tom
Material shared: We are the Strange (trailer).
Reason for sharing: Striking visuals and an amazing story. I love how it combines so many different types of visual elements and twists them into an unholy creation of amazing awesome.
Reflection
Henrik: Don't know if I'd enjoy the movie but will see it because of it uniqueness. If we did not have creations like these our culture would be very dull.
Matt: Crazy video, I imagine it would have been very difficult to juxtapose all of the various techniques.
Simon: I don't know whether I like his commitment or his craziness more.
Tian: Interesting find, I would love to know how he can afford to make such a long movie by himself. 18 months of production time doesn't sound like a long enough period for making a good quality movie to me. Also I would love to know how he promoted and sold it, I think it's really hard to market this kind of film.
Ramsey: Really cool animation man, I can't wait to pull out the popcorn and anti-seizure pills and let it siege my senses.

Name: Agent Tian
Material shared: Get Out – Animated Short
Reason for sharing: Awesome story and imaginative visual style, and the concept is very funny yet heartwarming. Best animated short I saw at MIAF so far this year.
Reflection
Henrik:
Fantastic short by people with skills and understanding that goes beyond animation goodness. I think the isolation cell metaphor worked for the most part. The additional details noticed through a second screening were few but impressive.
Matt: Great surprise ending. I was starting to feel really sorry for the guy. Sometimes you think if people can be happy in their own head-space, why should we force them to change? I think this video shows why.
Simon: Cleverly French.
Tom: Great animation. Interesting world. I didn't actually like the ending. It made everything ok and nice and fine in the world… to me that's as good a story device as "it was all a dream". Nice twist in the tale though, I'll give it that. Animation: 10 points.
Ramsey: Really great little short, beautiful animation and characters, im glad you shared this with me, I will definitely be showing this to my friends!
Agent Ramsey shared a top secret idea, so will remain in the vault 😛
Where do you find your best sources of creative inspiration? Please post in the comments any interesting things you've found on the internet as we're really interested to see what inspires you.
animation, art, game, Games, indie games, inspiration, play
1 Comment for Voxel Afternoon Tea! 1st Session
Leave a comment!