Hello, my name is Sam and I came to Jam!
0 Comments | Posted by Agent Sam in Uncategorized
Hi, how's it going?
I'm Sam TC Wong, the latest addition to The Full-Time Voxel Agent's Dev Team and one of Melbourne's Resident Game Jammers. I'm also a recent Computer Science and Multimedia Graduate from Swinburne University of Technology. During my studies I made a bunch of games in my own spare time, outside of work.
So…Hey! I was thinking, I'd share about them, but FIRST…
…here's my personal experience with games in a highly paraphrased format!
Primary School
The first ever video-game I played as a kid was a Tetris variant, titled 'The Blocks Game'. In primary school, my Dad and I would always fight over whose turn it was. To this date, Tetris is still one of my favorite classic games. *THUMBS UP!!*
Before jumping onto my first console, my Mum used to bring home games from work off of Floppy Disks that her colleagues lent to her. I played them on my first ever PC, which I won in a shopping centre raffle when I was in Primary School.

I played a lot of Paganitzu, and it was another favorite childhood game!
My first ever console was the PSX during my Late Primary School Years.
It currently sits inside of its home (a cardboard box next to my bed).
Secondary School
In Secondary School I moved back to the PC. I joined an online community of players in Starsiege: Tribes and quickly started making maps. I got a really big kick out of interacting with players as a level designer. My parents weren't too happy about this huge distraction from my studies, but for me it was heaps of fun.

Here's a Tribes Legacy video for those who may be slightly interested…
During High School, I was always thinking in the back of my mind,
"Oh Hey! Imagine how cool it would be to make levels or even games as a day job!"
I always enjoyed programming in VB 3.0, VB 6.0 and played around a lot with animating in Flash. At this stage in my life I was looking to head down the web design/development, software programming career path…
BUT THEN…The penny dropped and in late High School, I found out that there were Universities offering courses in Games Development.
University
I decided on doing University to better my programming, design and art skills. Eventually meeting a fork in the road where I had to decide which discipline(s) I would try to focus my attention on. In the end, I picked programming because I always enjoyed it the most and I always wanted to build my own games without having to rely totally on other programmers. Previously in High School, I always looked up to the cool kids that included scripts in their Tribes maps.
University did have an impact on my tastes as a gamer; I eventually switched from being a hard-core gamer to a more casual/indie gamer…

I'm now more inclined to consume games in the video above than the typical AAA content.
Game Development
In 2009, I attended my second Freeplay Independent Games Festival and I met Tom Killen at the After Party, we exchanged emails and the rest is pretty much history. Between that time and today I've made a heap of games outside of work, here are some I can share with you.
Late 2010
Shmockey

Attributed to Sam TC Wong
This game is a love-child between a SH'M'UP and Air Hockey!
Reason for Occasion: Games Programming in C++ at University
Cooking Utensils: C++ with SDL, x2 PS2 Controllers, x1 Controller Compatibility Adapter
Cooking Time: 1 Month
Early 2011
Avalancher

Attributed to Sam TC Wong
A SkiFree-inspired game where the player attempts to delay their impending doom for as long as possible!
Reason for Occasion: Just another distraction from University.
Cooking Utensils: AS3 with Flex, x1 Optional XBOX 360 Controller
Cooking Time: 24 hours
Breeder

Attributed to Team Sideways
A 2-Player survival game between two genders (Male and Female). Each player takes control of forces of attraction between males and females. The winner is the gender who out-lives their opponent.
Reason for Occasion: Global Game Jam 2011
Cooking Utensils:  AS3 + Flex, x2 XBOX 360 Controller
Brew Time: 48 hours
Honey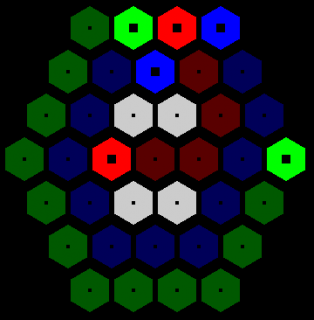 Attributed to Sam TC Wong
A 2D Hex-Puzzle inspired by 3D Logic Puzzle Flash Game.
Reason for Occasion: Holidays overseas in Singapore!
Cooking Utensils: C++ with SDL
Cooking Time: 1 month
Late 2011
As of late, I've teamed up with the guys at Wanderlands (a separate Melbourne-based Independent Games Studio consisting of Harry Lee and Jarrel Seah) to create awesome:
Droplink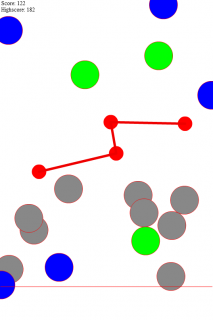 Attributed to Wanderlands
A 2D connect-the-dots action game, based on the theme, 'Rout.'
Reason for Occasion: The first-ever #squidprobro Game Jam
 Cooking Utensils: AS3 with Flex
Cooking Time: 24 hours
Counterpart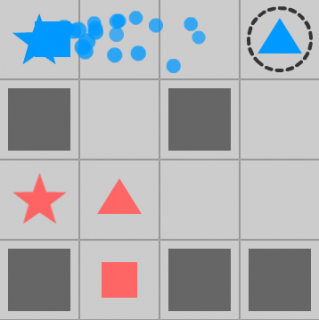 Attributed to Wanderlands
A variation of sokoban with magnets, based around the theme, 'Counterpart'.
Reason for Occasion: The Last Jam of 2011!
Cooking Utensils: AS3 with Flash IDE
Cooking Time: 48 hours
We actually went to the beach for a day to brainstorm and found this very dead-looking blow-fish that washed up…

The poor blow fishie…We nearly stepped on it! :O
Leave Me Alone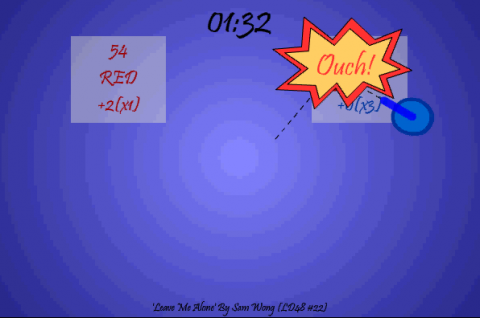 Attributed to Sam TC Wong
 A 2-Player Top-Down-Face-Off-Poke-Em-Out game based around the theme, 'Alone'.
Reason for Occasion: Ludum Dare #22
Cooking Utensils: AS3 with Flash IDE
Cooking Time: 24 hours
No tags
No comments yet.
Leave a comment!