Art and Theme in a Logical Puzzle Game
1 Comment | Posted by Agent Henrik in Art, Game Ideas, inspiration, making games, Puzzle Retreat
The best art style for a logic puzzle doesn't get in the way of a players ability to see and solve the puzzle itself.
Agent Tian and I researched what art principles were used in defining art styles for logical puzzle games. This information will be  relevant to other small development studios, as well as artists and students of game design.

We gathered data about the audiences of various games from the Facebook pages and user reviews of those titles. We found that Train Conductor 2, being a score based arcade game, attracts a much younger and tech savvy audience than is common for logical puzzle games.
Here are two typical sets of demographic data we've gathered from users interacting on the games facebook pages:

If you're unfamiliar with Quell it's a fantastic logical puzzle game that is performing well on Android phones. On their website you can read about the Making of Quell where you can read their development story.
Train Yards is a successfull logical puzzle game developed by Matt Rix. In his postmortem at GDC this year he talked about the difference between developing for casual players and harcore players. The slides are available for free here and you can listen to the full talk if you have access to the GDC vault here.

When developing a game for gamers you can skip several levels of teaching. With 10 years of gaming experience comes vast a priori knowledge of computer interfaces and how they usually respond to player input. For example, I'm sure you have, at some point in life, been completely mind boggled by the inability of an old relative to move files across folders.
We've seen endless cases, while playtesting with a casual audience, where the play tester develops the most obscure theories of what the game rules are. The cause of these theories is simply miscommunication by us, the developers. By stripping the game of unnecessary art assets we can greatly reduce this problem: less art assets mean less objects for players to develop wacky theories about.
We can see a clear connection between logical puzzle games that value graphical prettiness more than usability, and bad chart performance. We see the opposite effect when usability is considered first. It is clear that puzzle games that value usability over art outperform on the marketplace. Sudoku is a good example because there so many Sudoku apps (Appannie gives 823 results).
The players top favorite Sudoku game out of those 823 competitors is the example to the right. Their secret? They have the largest buttons possible.
The GDC talk "How to make your player feel smart" by Randy Smith (available for free here) gives advice about puzzles in games. He references the book "The Design of Everyday Things" and further emphasises the following principle: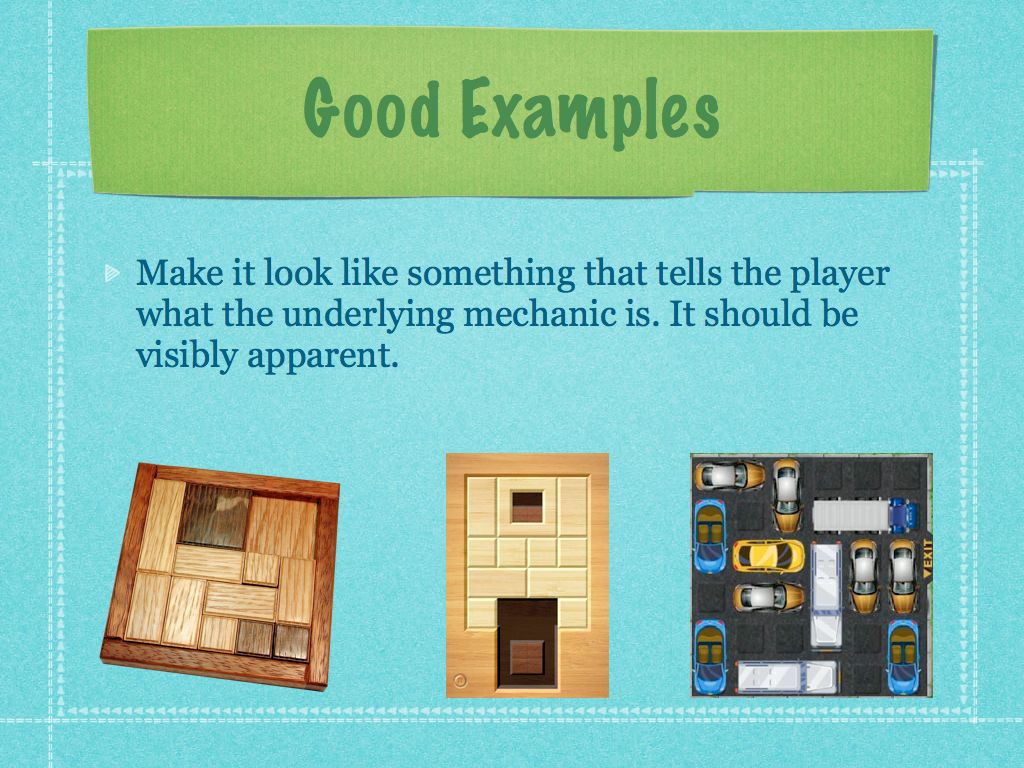 Look at the example on the right. Though you might not be sure of the rules or the objective at an initial glance everyone will know how a car moves and player will try to interact with the element in that manner. Logical puzzle games that stick to this principle are clear favorites among the players. For example, see Traffic Jam & Cross Fingers
I will hold off with the remaining slides of the presentation. They rely heavily on statistics and I don't want to bloat this post with pie charts. If you like that sort of stuff send me an email (henrikpettersson@thevoxelagents.com) and I can provide you with the whole presentation but you will have to draw some conclusions by yourself. I will publish the remaining data with descriptions sometime in the future.
No tags
1 Comment for Art and Theme in a Logical Puzzle Game
Leave a comment!