Live blogging from the 14 Hour Game Making Challenge!
1 Comment | Posted by Agent Simon in 48 hour game comp, Game Ideas, inspiration, making games, Misc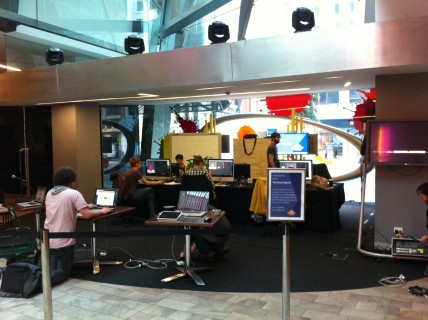 Hey there, we're making a game at ACMI at Federation Square. We're going to take an earlier prototype we made in 2011 called Time Travel Treasure Hunt, and make it into a fully fledged app fit for the App Store in just 14 hours! (Meanwhile we've spent a year working on our upcoming title… shh). So this is going to be EXTREME GAME DEVELOPMENT. 1 year? who needs that? 48 hours? Who needs that? 14 hours? Just perfect ;P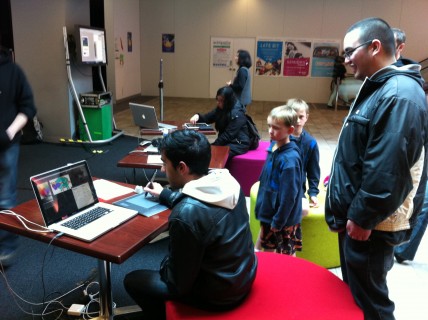 Come say hi at ACMI and pitch in your ideas. We just had a communal brainstorming with some luverly audience members, and we're setting up two machines for you to make art for the game and make sound effects for the game. We're here all weekend and I'll be live blogging as often as possible. Supposedly I'm meant to be "spruiking" the audience, but I think ACMI forgets I'm a computer nerd LOL so we'll see how that goes.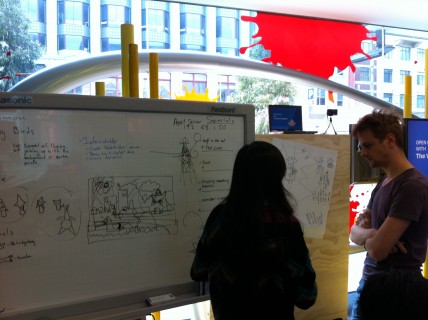 Ok so we've got the stations setup, people are recording explosion sounds. We've got people suggesting names for the game and we've got a drawing station with people filling in the lines for chickens, cows and houses!
I've uploaded our first build of the game: Play it here. The basic mechanics are up and running and from the first brainstorming session we are working our way through the list of todos.
The second build includes the first audience made art ; the trees and cows (?).
But Tian doesn't like having people watch over her shoulder. Especially when she has to make art that fits the same style as what the audience can draw… haha oh Tian, it's ok we know you're AWESOME.
Day 1 – Hour 5 – 2:01pm
CHICKENS
People recording chicken sounds has got to be the best part of this whole shenanigan! It always gets a laff. BEGGGEEERRRRRRKKKK
Day 1 – Hour 6 – 3:31pm
Just had a quick team meeting. We're dividing up the workload and putting champions in charge of certain areas. Matt, Tian and Henrik are building the first major scene and getting the flow happening in the core gameplay. Sam is getting sounds into the game and the audience user made content flow flowing. Tom is on the star collection crusade and I'm tackling the introduction to the game.
 Day 2 – Hour 14 – 4:31pm
We've had no internet all day! Sorry for the lack of updating…
But on the plus side we've been better at ignoring people today and desperately rushing to have the game ready for shipping. 26 minutes to go…
The final game!
No tags
1 Comment for Live blogging from the 14 Hour Game Making Challenge!
Leave a comment!