The Evolution of Handcrafting Puzzles and Design Tools
4 Comments | Posted by Agent Sam in making games, Puzzle Retreat
Over the past year our studio has continued development on our TOP SECRET grid-based puzzle game.
One of the major and on-going challenges that our team has faced during development was the creation of high-quality handcrafted puzzles.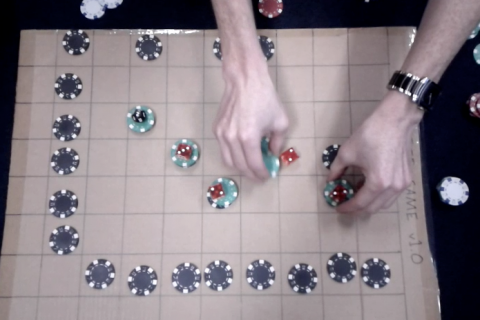 Agent Matt showing the rest of the team how one of the variations could work
Initially, we experimented with new puzzle variations with cardboard and a set of poker chips. It empowered designers to prototype rules earlier with no upfront code investment (while code was spent on building the actual game). We also couldn't deny that it came with super cheap "save features" with the use of a handheld camera or pen and paper. However, there were downsides to creating puzzles with cardboard and chips. It took a great amount of time to test puzzles with oneself, within the studio and with playtesters on the streets of Melbourne City.
Pen and paper prototypes in notebook form
was another alternative to cardboard and chipery!
Designers had to make sure that each move made on cardboard was legal and because a computer wasn't dictating how the moves were made, it was prone to human error and caused creation of unsolvable puzzles and puzzles with unintended solutions. Playtesting within the studio was also a lengthy process, it involved designers restarting the board manually by hand after each play. Since a computer wasn't dictating the original layout of pieces, this process was also prone to human error and sometimes caused awkward moments when it was realised that a puzzle being tested was unsolvable. Getting our designs in game on a portable device to take to the Melbourne City streets for playtesting wasn't easy either. We had to use one of our Legacy Flash Level Editors, which we were no longer supporting, to paint out our cardboard prototyped level and then export it, which took about 5 steps before being able to play it in game.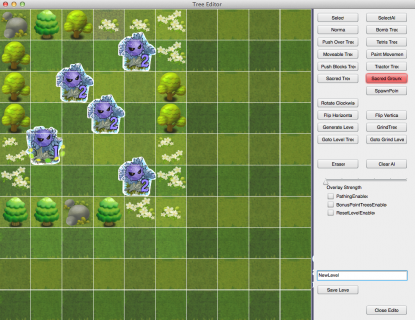 Our Legacy Flash Level Editor,
it was pweeeeetty and initially helped us get the levels in-game
Our first working Unity Level Editor, had paint, erase, load and save features (similar to our Legacy Flash Level Editor). It also saved puzzles in XML (a format that our Legacy Flash Level Editor supported). The Unity Level Editor had a first working solver, which made Unity crash a lot and our designers refused to use the Level Editor until it was fixed. We did see potential in it and persisted to shove in and rip out new features, one of the most significant features was the Solver.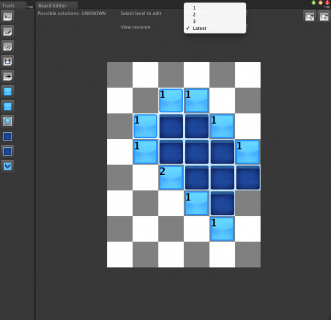 Our first working Unity Level Editor, we previously supported in-editor revisions!
Like a Phoenix, the Solver died temporarily (ie. removed), but soon after it was reborn (ie. reimplemented), but instead of turning into the same Phoenix it once was, it was reborn into this insanely powerful tool that changed the way designers now go about creating puzzles in our studio to date. The Solver had the ability to tell us how many solutions existed to solve the puzzle and if there were any solutions that were unintended, which we call illegal. A puzzle that was found to be illegal would never make it into the game. Designers were able to create super difficult puzzles that would have taken a day each to make and now they were being made in less than a hour. If a designer didn't know how to solve the puzzle that they created themselves, they could request for the solution to be played out in Unity's play-mode by the Solver.
The Solver was then made to play the game for us on device, it was an amusing sight to sit back admiring it's beauty. It looked as if our studio was haunted by really clever poltergeists that have possessed a bunch of our iPads and was playing and solving each puzzle within a matter of seconds without making any incorrect moves.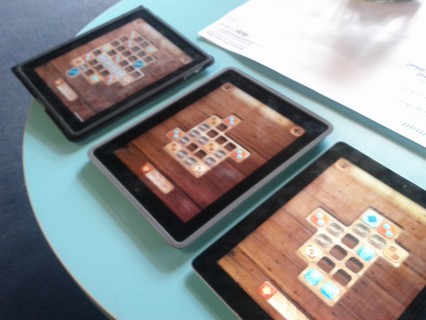 A reenactment of the really clever poltergeists hard at work!  
After a couple weeks of non-stop puzzle creation our designers got really accustomed to the Unity Level Editor and following this we had a discussion about our puzzle creation process and where to take it next. From this meeting, we decided to optimise the process further by adding a list of solutions to the puzzle being edited within the Level Editor itself without designers having to go into Unity's play-mode. It allowed designers to tweak their puzzles and to see the effect of their changes on the final solutions far more rapidly. Previously designers had to wait a whole minute each time they needed to test out a change that would have affected the solutions to a puzzle. Also the newly added visual representation of a solution communicates itself more quickly and clearly as to where each piece in the puzzle fits on the grid to the designer in comparison with how it was previously in play-mode.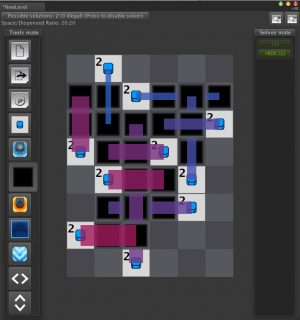 Our Unity Level Editor, functionality over form.
If you found this blog post informative, please visit our Puzzle Retreat Facebook Page to Like or Comment.
4 Comments for The Evolution of Handcrafting Puzzles and Design Tools
Leave a comment!