The Art of Puzzle Retreat
4 Comments | Posted by Agent Simon in Art, making games, Puzzle Retreat
Puzzle Retreat as we know it today is a far cry from where it began in May 2011. It started as a third-person game about felling trees, and it finished as a relaxing minimal board game about sliding ice blocks. In between, it ventured into a massive variety of themes and styles, including one where you were responsible for unfurling dragons by the pool so they could sunbake. It's had explosions, bad guys, tractors, floating islands and even storylines. The game you play today was only possible with eighteen months of refinement, simplification and a whole lot of love from a creative team striving to make the ultimate logical puzzler for mobile. This is Puzzle Retreat's game dev story.
The Pitch
Yangtian Li, our in-house artist at the time, pitched to the team an elaborate design for a lumberjack-come-carpenter game. You fell trees in the forest, bring them home and make furniture. You can then unlock, sell and buy different design schematics, paints, flourishing details, and then trade what you make with other players online.
Add a Splash of Puzzle
Henrik Pettersson was immediately inspired by the puzzle potential of felling trees in a forest.  His first design was a puzzle game where the trees fall into each other and knock each successive tree down dominoes style. The second design, and eventual winner, focused on your player character who stands behind each tree to push it over. You must have enough space to stand behind the tree to push and there must be space for the tree to fall onto. This puzzle design requires you to find the right order to knock all the trees down whilst keeping the appropriate spaces free, and not locking yourself in.
We really liked the potential depth of puzzles this mechanic presented, and the simplicity of the interaction. Playtesters were scratching their heads and smiling, and we could feel the potential of this game really standing out – it's a brain scratcher that can fit into a few minutes a day on a mobile.
Save the Ozone
Unfortunately once we put these graphics above into the game it just felt wrong to be cutting down forest after forest for no apparent reason! This was a moral dilema we couldn't mount! Fortunately the gameplay mechanics of unstacking numbers across a board are quite flexible and aren't constrained to being about trees, lumberjacks and forests… So we explored some new art styles, and in great detail too! Some 20+ designs were explored at this stage.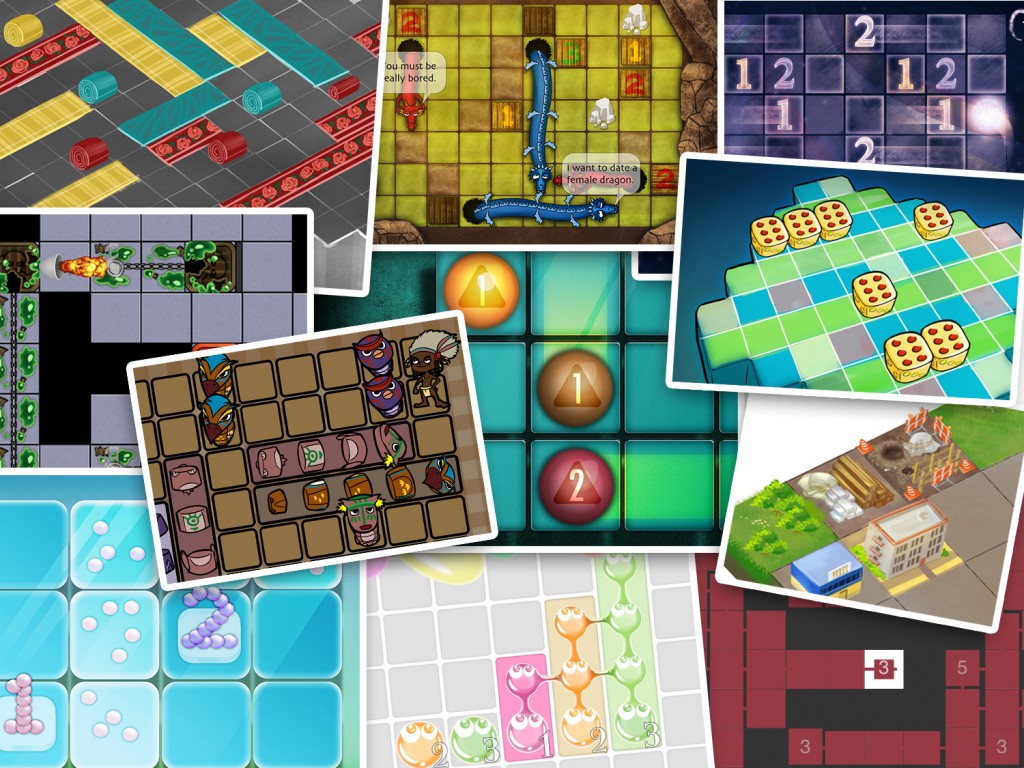 Themes Galore! Gloopey gooey balls to stretch out, stacks of calming stones to push over, carpet to roll out, dragons wanting to sunback, bombs to explode. All kinds of things. What was the city building one? I don't even know!
We were looking for a theme that explains the underlying mechanics of the world. Sometimes a theme just does that, for example the theme of Train Conductor beautifully explains that the moving objects on screen run on tracks, they can stop and go, and that they can change tracks to avoid each other – just like you'd expect a train to do. In that same way, being a Lumberjack in a world full of trees, immediately tells you a lot about what you should probably be doing, and we didn't find a single theme that explained the underlying mechanics of how the world operates, well not one we really liked.
We were somewhat exasperated at this stage. A little disappointed that such a simple mechanic was so hard to layer a theme over! Poor Tian had to throw many concepts away, and that was sad ;C
The Most Sensible Choice: Evil Trees?
Sometimes the simplest solution is the best right? We thought, "let's go back to trees but turn it on it's head". What if you were saving the forest by clearing it of infection? You'd feel good and all the benefits of trees matching the mechanics would still be present. Plus the character could be super kawaii!
An evil presence has invaded your forest and as the wonderful tree spirit that you are, you are not going to take it sitting down! This was a major milestone for us.
Here, have a play of it! Leafy awaits you and your puzzle solving abilities in this early incarnation called "Stumped" (desktop only, sorry no mobile version).
….
Ok, so now you've played it (right?) Well let me tell you what's wrong with it ;P
Read the following rules of the Stumped gameworld in one breathe; ready, set, go! First there are two types of trees in this world; the friendly trees you like, and the evil infected trees you don't but you are a tree spirit who inhabits the forest and you need to clear the forest of infection knowing full well that each evil tree has a specific height which affects how many squares it will consume when it falls down and that you can't knock a tree onto other trees, the debris of other fallen trees, or outside the map, all while remembering to leave space to stand to cut each tree, and that where you stand affects where the tree falls!  b r e a t h e… You get the drift.
Another issue is that it's quite a challenge for an artist to design a tree that looks evil AND also show that it has a particular size, whilst not communicating said size visually through taller and shorter trees. We could side-step the height problem by using numbers to communicate height and displaying the trees as icons, but it wasn't ideal because your visual attention was divided between the tree and the number. Ideally we wanted both in one design. See below:
Have I mentioned game development is hard? I feel sorry for poor us struggling at this point.
Rules Were Meant To Be Removed
This is where the heroes of the story come back to glory and win the day! Just watch.
One of the variations we'd designed in the tree phase was a set of frozen ice covered trees with slippery logs that would slide over each other. The puzzles from these trees didn't really make much use of the character, and by removing the character we figured we could remove a whole stack of rules and story explanations. Now you're just unstacking the numbers and filling the board. So simple. So direct.
It worked really nicely and playtesters were responding to it very well! It felt light and fresh and there was so much open space and freedom to explore! Suddenly we had just two rules: slide the blocks to fill the holes, use all the blocks.
An icey board game
Since we were stripping it back, we took the opportunity to look broader at who plays these types of ultra minimal logical puzzle games (like CrossFingers, Unblock Me, 7 Little Words etc, Sudoku). We found that the audience of these games is more mature, and predominantly female! When asked about why they play puzzle games they say 'I play to relax, unwind and get some "me time"'. That makes sense. We play for the same reasons!
So with these two factors in mind: Puzzle Retreat was born. Simple, non-intrusive, easy going and at your own pace. We wanted to craft a world free of stress and distraction. A place you could come for a few minutes or a few hours and relax, focus and unwind with some brain chilling puzzles.
By letting the gameplay be the focus, and pushing the art into the background, the game could really shine. And the result speaks for itself. The image to the left is the first concept image of the new board game style, and below it is what we finally released on the store.

The game has been out for a week, and we've been getting such amazing feedback that it all feels worthwhile! And the great thing is that people are really appreciating the simplicity and the minimalism that took us so long to craft!
Thanks for reading. I hope you can take something from this. We certainly learnt a lot!
You can grab Puzzle Retreat on the App Store right now!
No tags
4 Comments for The Art of Puzzle Retreat
Leave a comment!