AgentAiden


0 Comments | Posted by AgentAiden in business, Games, making games, Puzzle Retreat
At the 2013 Game Developers Awards hosted by the GDAA, Puzzle Retreat was awarded with the Accessibility Award. Not only is it an awesome and prestigious award that we like showing off in our office, but it marks a very important milestone when it comes to game development. Film Victoria and Screen Australia now consider accessibility when it comes to providing funding and are now rewarding companies that excel in developing games that are accessible to a wide audience.'
We think this is pretty swell.
Accessibility in gaming has always been a topic of contention. How does one make a game that caters towards people with motor, cognitive, hearing, speech or vision impairments? Mainstream games usually shy away from this demographic in favour of the masses.
In terms of our games, we aim to make them accessible to those living with impairments. We believe everyone should experience the joy of gaming!
Puzzle Retreat was designed from the ground up with that philosophy in mind.
Sometimes games (particularly puzzle games) rely too heavily on language, small icons or graphics that are make it difficult for players with certain types of vision impairment or  difficulties with language to be able to understand and follow. We've attempted to alleviate the problem by using large and bold icons that can easily be differentiated. Furthermore we tried to make the game playable without understanding any written text.
There is an definitive association between time limits and penalties with puzzle games. I'm sure you've all felt the frustration of nearly completing a level, only to have the timer run out on you. We decided to take a different route when it comes to unforgiving scenarios.
We eliminated them entirely.
Puzzle Retreat allows players to take as much time on an individual puzzle as they'd like, reset it as many times as they want and even skip the puzzle entirely. Puzzle Retreat was designed to be a relaxing puzzle game, so it only felt right to dispose of time limits and penalties.
We've also tweaked the detection radius of the blocks so that its extremely forgiving when a player misses a block by a small margin. This feature, plus the removal of the timer allows players who don't have a range of fine motor skills to be able to enjoy Puzzle Retreat.
We at The Voxel Agents are extremely excited when it comes to the future of gaming in Australia. With so many awesome studios producing games of such high quality and Film Victoria and Screen Australia providing consideration for funding to those who place emphasis on accessibility, we can't wait to see what gets released in the future.
This is Agent Aiden, signing out.
Android, development, game, Games, indie games, inspiration, iphone games, milestones, The Voxel Agents

0 Comments | Posted by AgentAiden in Uncategorized
That's right. We're excited to announce that we have moved into a new office! It is part of the a new game developer shared office called the Melbourne Arcade (@TheArcadeMelb) in Southbank. Thank you very much to GDAA for making this collaborative environment a reality. It's proving to be awesome already!
Here are some photos of our new pad!
Walk up the stairs and turn right to find the 'Voxel Agents' plaque on our fabulous door. Through said door you might see a few agents at work.
Working hard or hardly working? I'll leave that up to you to decide.
Across the room you will find a board full of Voxel Agent secrets and shelves full of miscellaneous gadgets. If you look really closely, you might see a protoss zealot hiding behind a firebat. Weird, huh?
Next to the board of secrets is the lounge area. Also known as my desk.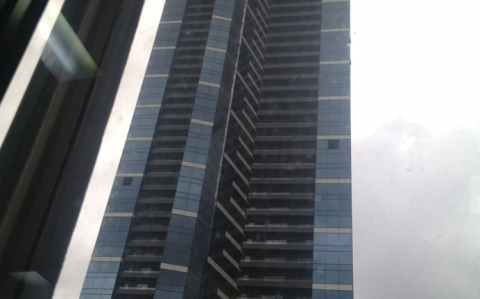 If you look right outside of our beautiful windows you can see the Eureka tower. Such a great location! Sometimes we feel a bit sorry for the passing by passengers, because City Rd happens to be on the route to the docks :C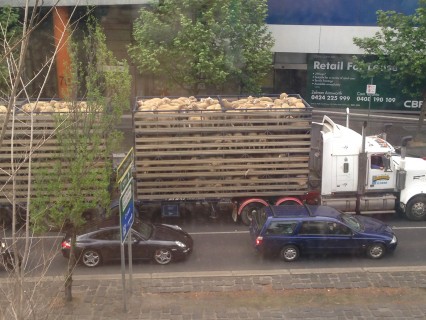 Down the corridor are the offices of Surprise Attack, Many Monkeys Development, Tin Man Games and many more to come. We're ecstatic to be sharing a space with so many other awesome studios – plenty of creativity in air, and when we walk past a board room full of people playing a multiplayer game together for "work" we remember how great game development is ;P
It's nice being in Southbank. It's a gorgeous area, and Simon has told me stories of how it is a historical site for The Voxel Agents. The first press photo of the original co-founders, Simon, Tom and Matt (left-to-right), was taken on the bank of the Yarra River in 2009, complete with amazing hair cuts!
Together they started the studio in an small office on the top floor of the HWT Tower (pictured) which is literally across the road from our new place. However, the story goes that all they could afford was the converted fire escape, with no windows next to the mens toilets! However, once the first artist arrived to join the team they couldn't possibly fit a fourth in a one person office (!) and moved to Richmond.

Accordingly, the original concept of Train Conductor was dreamed up on the side of the Yarra River while looking across to Flinders St Station. And hence the station features in the Melbourne level of Train Conductor, from a view not too dissimilar from the foyer of the top floor of the HWT Tower!
The arcade is The Voxel Agents fifth office in five years, and from the sounds of it, the best yet! We're really happy with the location, the office space and we love being so close with other awesome Melbourne game devs! Exciting times ahead 😀
No tags