CAT | Dolphin Hero
0 Comments | Posted by Agent Simon in Dolphin Hero, Games
Check out the new Dolphin Hero update now available on the App Store!
The new update comes with a score of features and tweaks:
Integration with Twitter, Facebook, and AGON for international score-posting. We integrated the AGON Online Social Platform and you can now pit your skills against your friends, people locally and the world!
There are 15 in-game achievements to be found! Each one you collect increases your AGON PocketScore. We have had very good experiences with AGON and hope that many more games join the trend, allowing you to continue raising your PocketScore in many more games too.
Drastically improved graphics! We improved the rendering so that the graphics are now crystal clear. It was a simple change, but it made a huge difference.
Advanced tactics for collecting massive scores!!! There are many tactics, from simple to advanced, that you can employ to get higher scores. Read up on them on our previous post about Dolphin Hero tactics.
More intense action for experienced pro's. The game starts easy and adjusts to your ability, so its non-stop fun the whole way through.
Although the graphics are improved, we managed to keep good control over the performance and framerate and the game nows runs more consistently.
Many of the new features and tweaks we're inspired by suggestions and comments given by the community. We really appreciate everyone's feedback and the game has improved drastically with each update. If people continue to talk about Dolphin Hero we'll continue to make it better! Thank you everyone.
And Dolphin Hero is still less than a dollar!! Just 99 cents in America, $1.19 in Australia and less than a pound in the UK! (Other countries vary). BUY IT NOW – JUST 99 CENTS!.
0 Comments | Posted by Agent Simon in Dolphin Hero
Swimming with Agent Duski the Dolphin Hero is a whole lot of fun regardless of how you play, but if you like maximizing your score and challenging the best secret agents in the world, this post is for you!
Can you master all of the Dolphin Hero tactics?
Collect multiple people of the same color at once to get bigger combo scores
Watch the arrows at the top of the screen for clues of what is coming
Each person on your back is worth another 100 points when you eat cake
Drop the victims at the party boat at the last minute – new ones could drop at any moment allowing you to get a bigger combo score
When you're in trouble, drop people quickly by swimming through a pufferfish. Use this method to drop one color to pick up the other.
*ADVANCED TACTIC!* Try juggling two groups of blue and pink by 'swapping on the puffer'.
*ADVANCED TACTIC!* Swim through a pufferfish from above to release the people further up in the water, allowing more time to collect them later.
We'd love to hear other tactics that you discover and come up with… post them in the comments below!
0 Comments | Posted by Agent Simon in Dolphin Hero, Games
The graphics rendering of Dolphin Hero has been massively upgraded and its like playing Dolphin Hero in HD! Everything is sharper and the colours are more vibrant.
The difference is due to a relatively simple change in the way we do things and we will post about it soon.
1 Comment | Posted by Agent Matt in Dolphin Hero
So I've been getting a lot of questions about the game and general development. I thought I'd post them here to help anyone in the same boat. So without further ado…
D: I don't have an iPhone! Where are the screenshots and videos?
Agent Matt: You can find screen shots and videos on the Dolphin Hero website.
A: Downloaded, played, enjoyed – hope this is the start of amazing things to come! How did you find the submission process?
Agent Matt: Approval was a breeze.  The only thing that caught us out was the display icon, we had a  small one for the iPhone, but didn't realise we also needed a 512×512 version, and our designer/artist was in Italy, so we just had to size up the small one.  We had also got to the end without some proper screen shots, I wasn't looking forward to cropping up snapshots of the simulator, but we found out you can take them on the device by hitting lock+home quickly.
A: Nice work. I've been making my own game using C++ so far, we've barely touched Objective C. Which one did you use?
Agent Matt: We started out with Objective-C because we thought we should at least give it a go first. Agent duski ended up being a mix of the two. We've since thrown away all that code and moved to C++, which is what we will be using for the rest of our games.
M: General feelings working with the iPhone, any other points?
Agent Matt: iPhone dev has been pretty smooth sailing.  It was a bit scary to find that what runs at 60fps on the ipod Touch is about 30fps on the iPhone…  But as long as you do all your dev on the phone, it should be fine.
Also try and support 2.0. We were tossing up whether or not we would bother, and ended up releasing for 2.2.1, at least 2 of our friends had to upgrade their phone just to play our game, so you're definately cutting some of the market out (we assumed that people not on 2.2.1 werent buying apps anyway – don't assume).
A: The music is great! Where did you get it from?
Agent Matt: Agent Simon's brother (Joel Joslin) is a professional musician who has been writing and performing for more than a decade  He wrote all the music for us, and provided the sound fx.
M: I'm looking into putting sounds into my own iPhone app. Should I use CoreAudio or openAL?
Agent Matt: We used openAl for all our soundfx. and GBMusicTrack for music (copy,paste,edit from http://www.idevgames.com/forum/showthread.php?t=15280 )  We originally were using core audio, but thought we'd get more control in OpenAL. Also core audio didnt seem to work on iPhone 3.0, we didn't look into why.
A: I really want to develop my own game, but I can't find the time.
Agent Matt: You just have to do it, it's a fantastic feeling having a game in the store.  It's also the first game released for me, so doubly exciting 🙂
0 Comments | Posted by Agent Simon in Dolphin Hero
We have just released our first game – Dolphin Hero!
Dolphin Hero is exceptionally fun and engaging. Take control of Duski the dolphin and save the troubled people from the Unstoppable Monster!
Visit Dolphin Hero at: http://thevoxelagents.com/dolphinhero
EDIT: Updated old links. Dolphin Hero was once called Agent Duski: Dolphin Hero.
No tags

1 Comment | Posted by Agent Tom in Dolphin Hero, Top Secret
We had some requests from our twitter feed (follow us here) for some screenies of our latest game so we'll put these ones out there.
Bear in mind that this game still has to go through some more QA but this is our latest creation in all its glory.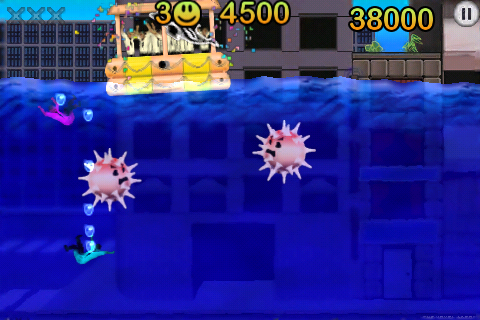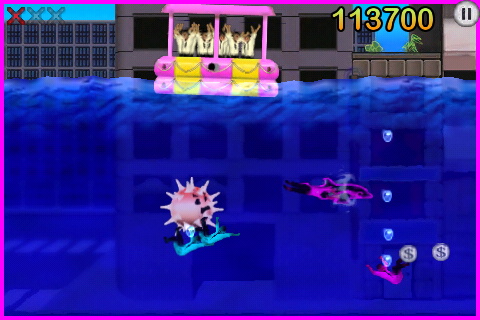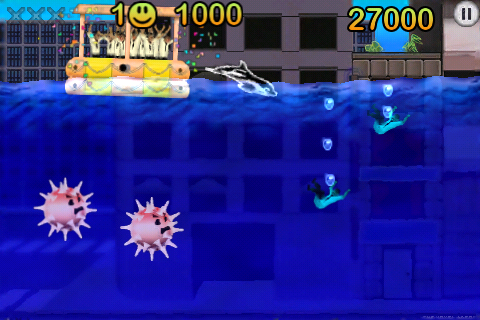 We'll work on a video of gameplay for you guys.
Any thoughts, comments, suggestions, criticisms… compliments… much appreciated 😀
0 Comments | Posted by Agent Matt in Dolphin Hero
We getting very close to our first release. Just going through final QA now.
No tags
0 Comments | Posted by Agent Matt in Dolphin Hero
Today we had a couple of strangers try our game in our first playtest on Melbourne's lovely Southbank!
We got loads of great feedback, and Belinda wanted to know when she could buy the game!