TAG | indie games
2 Comments | Posted by Agent Simon in Art, Game Ideas, inspiration, making games, Puzzle Retreat, Top Secret
In 2011 we made loads of prototype games; some small, some funny, some that sucked, almost all ugly (except the lucky few that receive Tian's touch

). Here's a visual tour of 20 of the 24 games that we made in five months. Together they paint the picture of what Voxel Agent games look like when they're born – a mish-mash of squares, circles and terrible colour schemes!
art, development, game, Games, indie, indie games, inspiration, play, playtest, prototype

0 Comments | Posted by Agent Tom in 48 hour game comp, award, Game Ideas, Games, inspiration, making games
Last weekend, we competed in the #fab48hr game making competition in Brisbane, Australia… and what a wild weekend! We won! That was great, but more importantly I was absolutely blown away by the quality of games made by the other teams. I was particularly impressed with the level of quality and polish that was developed in "indie" / student room. There is an enormous amount of talent in Australia and I'm sure we're going to see more from those awesome young developers.
In the #fab48hr competition, each team must concept, design, and create a game based on three keywords that are provided at the beginning of the competition. This year, those words were "suit", "key", and "badger", provided by Yug, Hex, and Jinx.
We made this:
Download the game we made here [WINDOWS] or if you use a Mac, try this link [MAC].
How to Play: Without giving too much away, if you have a couple of XBox controllers, plug them in for the best experience, using "A" as your action button. If you have to use a keyboard, you can use the arrow keys for player 1 and WASD for player 2, with "shift" as the action button. Also be aware the the glowing yellow floor (which totally looks like lava) will kill player 1 and the swirling blue circles (evidently poisonous gas…) will kill player 2. That's all you really need to know… oh yeah one more thing: the badgers aren't nice and they will eat your face.
The Badgers of Fury 161 was developed by the Alliance of Indie. This team was composed of developers from a number of Australia's top Indie studios including yours truly Agent Tom (The Voxel Agents), Liam Hill (Defiant Development, 3 Blokes Studios), Cratesmith (Cratesmith,Defiant, Strange Loop), Matt Ditton (Queensland College of Art, Defiant), and the incredibly talented Milenko (Strange Loop,Defiant).
But really, kudos where kudos is due:
As proud as we are of the game we managed to make in 48 Hours, the real winners of the competition were the indie team Rockin Moses (read about them here: http://making-games.net/48/?p=2916) who made a really fun game called The Fifth Suit. 
This game was great fun to play. For me, their game evoked "Smash Brothers Brawl". While playing, I was less concerned about winning and more concerned about trying to make life difficult for my opponents. It was a strong social experience and quite a polished product for just 48 hours of work! You can grab a PC version of their game here [WIN] but it's best played with XBox controllers. If you're lucky enough to have some XBox controllers then I strongly suggest you get this version [WIN - XBox Controllers].
3 blokes, alliance, award, cratesmith, defiant, development, fab48hour, fab48hr, Games, indie, indie games, inspiration, preview, prototype, strange loop, strangeloop, The Voxel Agents

6 Comments | Posted by Agent Tian in Game Ideas, Games, inspiration, making games, Misc
Agent Henrik is cutting paper boards for our next game! Guess what kind of game it is!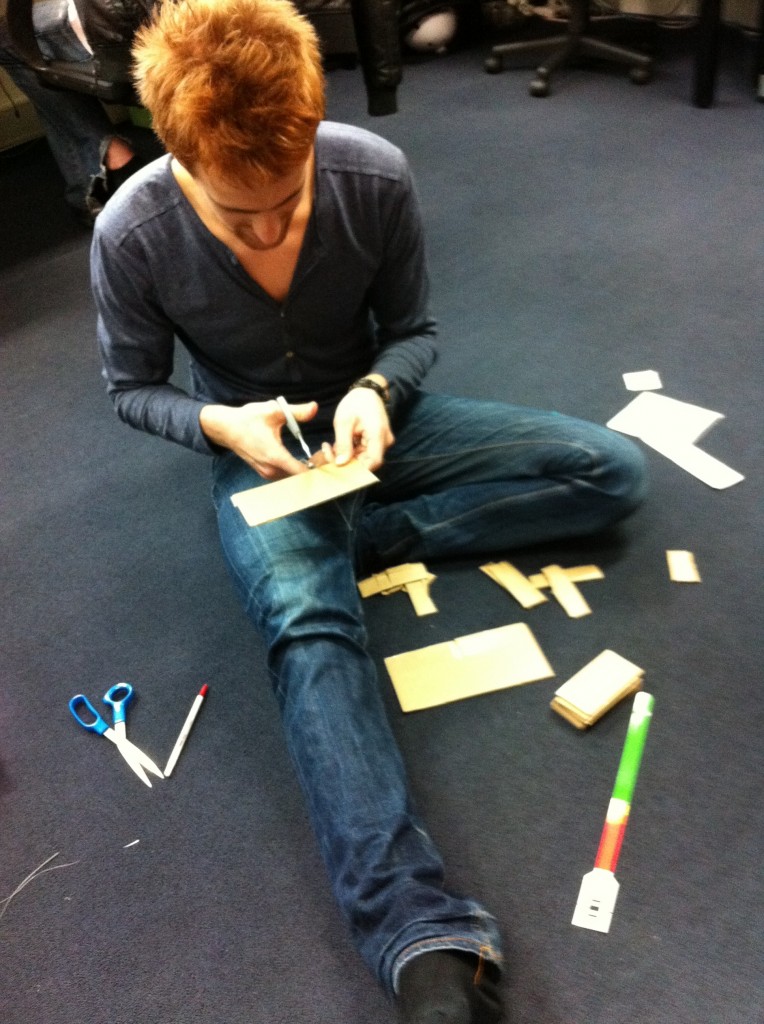 coming soon, development, game, Games, henrik, indie games, inspiration, iphone dev, iphone games, The Voxel Agents

1 Comment | Posted by Agent Tian in Art, Game Ideas, inspiration, Misc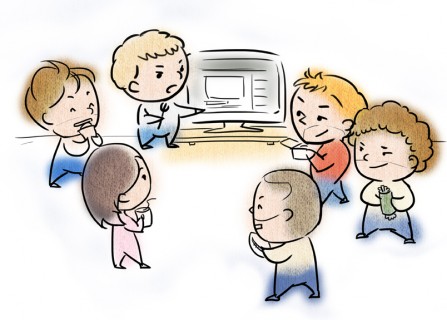 The Voxel Afternoon Tea! Sound's awesome, doesn't it?
As creative individuals we are always producing new ideas, but how can we continually produce without also absorbing ideas?
So, we came up with this idea of holding an 'afternoon tea' session every Friday lunchtime. During tea each Agent shares something that they have recently discovered or found interesting and we all discuss.
We thought you might be interested to check what each person shared!
Name: Agent Matt
Material shared: Not Tetris 2
Play it on: http://www.stabyourself.net/nottetris2
Reason for sharing: I think it's an interesting subversion of a classic game. The 'broken-ness' of it just works, and it is self documenting.
Henrik: I'm impressed of the product. It's been taken way beyond what he needed to show the concept. I'm not entirely sure what the developer is trying to tell or show us more than that its works but regardless I'm impressed.
Simon:
I like how the whimsical controls match the developer's attitude in destroying a classic

Tom: Subversive! Loved how he broke the rules of tetris by making the blocks not behave the way they should, but the players objective remained the same. I'd love to see someone clock this game (see http://www.youtube.com/watch?v=keeSEJG4XzU).
Tian: It's interesting to watch it, but I don't think it will be as enjoyable as the original Tetris…
Ramsey: Great Rehash on a classic, lovin it bro

Name: Agent Henrik
Material shared: Amnesia Dark Descent Gameplay Video
Reason for sharing: Along with Limbo, Amnesia was the best game I played last year.


Reflection
Matt: Watching videos of people's reactions is always interesting. It's incredible just how psychologically hooked people can get, even though they can just walk away at any time.
Simon: Amnesia looks like an horrifying ride and I want to take it


Tom: I need to play this game, but after watching that video I also need to play it on skype with Simon.
Tian: I was worried at first when you told me it's going to be scary, because I tend to scream if I see something scary. But I didn't and it was kinda confusing… and funny. However I still would not play the game, just because it's a scary game and I've experienced enough scary things.
Ramsey: Looked fantastic, I'll get on it as soon as I grow a pair to play horror games lol. It seems the developers really understood how to manipulate the emotions and fear of the player and tweak it to ALMOST the point of snapping.
Name: Agent Simon
Materials shared: Live coding!
Reason for sharing: These guys inspired some of my final year work at uni and have been an ongoing inspiration. I like the idea of using a computer as an instrument, and not just to play samples, but to use it's logic to generate interesting melodies on the fly.
Reflection
Henrik: Much admiration to the people who travel in new direction of creativity. Extra interesting since it's an area I too wish to explore.
Matt: Code as performance is awesome!
Tom: Loved the performative aspect of this. Reminded me of conditional design more than generative design.
Tian:
It's always amazing for me when someone can do both art and programming. They would have some really symmetrical looking brain I think.

Ramsey: Future sailors, taking retro to its logical conclusion! Boosh aside, this looks really cool and I'd love to see where these guys end up creatively in a year or two's time. It seems to me that once they master their tools ( which they created lol ) they will definitely come into their own.

Name: Agent Tom
Material shared: We are the Strange (trailer).
Reason for sharing: Striking visuals and an amazing story. I love how it combines so many different types of visual elements and twists them into an unholy creation of amazing awesome.
Reflection
Henrik: Don't know if I'd enjoy the movie but will see it because of it uniqueness. If we did not have creations like these our culture would be very dull.
Matt: Crazy video, I imagine it would have been very difficult to juxtapose all of the various techniques.
Simon: I don't know whether I like his commitment or his craziness more.
Tian: Interesting find, I would love to know how he can afford to make such a long movie by himself. 18 months of production time doesn't sound like a long enough period for making a good quality movie to me. Also I would love to know how he promoted and sold it, I think it's really hard to market this kind of film.
Ramsey: Really cool animation man, I can't wait to pull out the popcorn and anti-seizure pills and let it siege my senses.

Name: Agent Tian
Material shared: Get Out – Animated Short
Reason for sharing: Awesome story and imaginative visual style, and the concept is very funny yet heartwarming. Best animated short I saw at MIAF so far this year.
Reflection
Henrik:
Fantastic short by people with skills and understanding that goes beyond animation goodness. I think the isolation cell metaphor worked for the most part. The additional details noticed through a second screening were few but impressive.
Matt: Great surprise ending. I was starting to feel really sorry for the guy. Sometimes you think if people can be happy in their own head-space, why should we force them to change? I think this video shows why.
Simon: Cleverly French.
Tom: Great animation. Interesting world. I didn't actually like the ending. It made everything ok and nice and fine in the world… to me that's as good a story device as "it was all a dream". Nice twist in the tale though, I'll give it that. Animation: 10 points.
Ramsey: Really great little short, beautiful animation and characters, im glad you shared this with me, I will definitely be showing this to my friends!
Agent Ramsey shared a top secret idea, so will remain in the vault

Where do you find your best sources of creative inspiration? Please post in the comments any interesting things you've found on the internet as we're really interested to see what inspires you.
animation, art, game, Games, indie games, inspiration, play

1 Comment | Posted by Agent Tom in making games, Misc, Top Secret
2010 was a great year for The Voxel Agents. We saw the massive success of the Train Conductor series and we cemented our position as producers of high quality indie games for iOS.
So now that 2011 has rolled around, we decided the time was right to grow our team. We're very, very, happy and proud to announce Henrik Pettersson and Yangtian Li as the latest additions to our secret service / games development studio.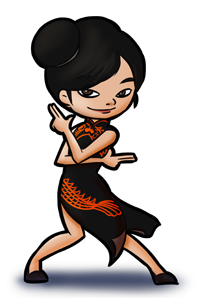 Yangtian Li is joins us as our new graphic designer and she will also be the Minister for Pranks. Tian is a very passionate artist has a love of drawing and animation. She came to Australia from her home country of China to study and to pursue her creative ambitions. Tian is a hard core gamer – no one in the office can beat her high score at game dev story. Tian likes all sorts of art and creation including cooking and of course eating. Yum yum. She hates most sports except the ones that have background music. Tian's short-term goal is to continue to have her work featured in artbooks and exhibitions, and also to avoid getting hit by a car because she doesn't have health insurance. Tian was the valedictorian of her class at QANTM and has a very bright future in the gaming and animation industry.
2 Comments | Posted by Agent Simon in Misc
Happy birthday to The Voxel Agents – now one year old!
This is Agent Simon here. Recently we've been reflecting on our first year as an indie game studio, and at the April meetup of the IGDA Melbourne Chapter I presented a retrospective of the business side of running the studio. I've posted the slides (link at the bottom), but first I thought I'd give some context to the presentation.
Going indie is very rewarding and enjoyable. It is also extremely hard to make a living from it. We wanted to share our experiences to help others who are planning to start an indie studio. The retrospective covers our mistakes, our successes, the things we did that gave the most value and some harsh realities of the indie financial situation. To succeed as an indie, you need to be well organised and have a clear plan. We set out with some pretty outrageously unachievable goals, and although that blind optimism has certainly helped to get through some difficult times, I think we've mostly stuck to the goals and we're now well on our way.
I like to think of running an indie studio as pushing a snow ball along. There isn't any one single thing that you do that will make you successful, but each successive step forward helps to slowly build the snowball bigger, and hopefully one day it will be big enough to start feeding yourself from it (we're not there yet).
There's a very vibrant community of indie developers in Melbourne, and in the hope that we could help, we were really happy to share all the details. The presentation covers how much we invested, our income and expenses and a quick summary of our marketing and production approaches, as well as other tidbits.
The slides are available on slideshare and in PDF. There is a lot more detail I would have liked to add but couldn't in a 30 minute presentation. I am now developing the retrospective into a full article and if there's any aspect you'd like covered in particular just leave a comment. You can be notified when the full article is ready by following us on twitter, facebook or via RSS.
Good luck to those who applied for the Film Victoria funding round.
Assistance starting an indie studio in Australia:
development, happy birthday, indie games, iphone dev, The Voxel Agents
0 Comments | Posted by Agent Simon in Train Conductor
Train Conductor is looking great and it's thanks to the efforts of Logan Dowell, Derek Pritchard, Joe Gatling and Jarrod Andersen, our nationally distributed art team.
Logan Dowell and Derek Pritchard were selected to join the Agent ranks as part of the QANTM college internship program. together they developed the level backdrops of Sydney and Melbourne, created numerous train models, and designed the entire menu art style. They also collaborated together to produce the wonderful loading screens and game website, amongst many other things.  The pending release of Train Conductor marks their explosive debut into the games industry.
Joe Gatling, a long standing friend and fellow university graduate member of our sif90 roots, initially set the style of the game seen in the early teaser images, and they became the defacto style guide for the rest of the development process.
Jarrod Andersen connected with The Agents through a serendipitous reddit post in July 2009. Jarrod developed the Mr. Train Conductor character and set the initial train model style, as well as the scary Skull Train.
We are tremendously grateful for their assistance and the beauty of the final game is a tribute to their efforts.
Games, indie games, iphone, iphone dev, The Voxel Agents, Train Conductor