TAG | inspiration

0 Comments | Posted by AgentAiden in business, Games, making games, Puzzle Retreat
At the 2013 Game Developers Awards hosted by the GDAA, Puzzle Retreat was awarded with the Accessibility Award. Not only is it an awesome and prestigious award that we like showing off in our office, but it marks a very important milestone when it comes to game development. Film Victoria and Screen Australia now consider accessibility when it comes to providing funding and are now rewarding companies that excel in developing games that are accessible to a wide audience.'
We think this is pretty swell.
Accessibility in gaming has always been a topic of contention. How does one make a game that caters towards people with motor, cognitive, hearing, speech or vision impairments? Mainstream games usually shy away from this demographic in favour of the masses.
In terms of our games, we aim to make them accessible to those living with impairments. We believe everyone should experience the joy of gaming!
Puzzle Retreat was designed from the ground up with that philosophy in mind.
Sometimes games (particularly puzzle games) rely too heavily on language, small icons or graphics that are make it difficult for players with certain types of vision impairment or  difficulties with language to be able to understand and follow. We've attempted to alleviate the problem by using large and bold icons that can easily be differentiated. Furthermore we tried to make the game playable without understanding any written text.
There is an definitive association between time limits and penalties with puzzle games. I'm sure you've all felt the frustration of nearly completing a level, only to have the timer run out on you. We decided to take a different route when it comes to unforgiving scenarios.
We eliminated them entirely.
Puzzle Retreat allows players to take as much time on an individual puzzle as they'd like, reset it as many times as they want and even skip the puzzle entirely. Puzzle Retreat was designed to be a relaxing puzzle game, so it only felt right to dispose of time limits and penalties.
We've also tweaked the detection radius of the blocks so that its extremely forgiving when a player misses a block by a small margin. This feature, plus the removal of the timer allows players who don't have a range of fine motor skills to be able to enjoy Puzzle Retreat.
We at The Voxel Agents are extremely excited when it comes to the future of gaming in Australia. With so many awesome studios producing games of such high quality and Film Victoria and Screen Australia providing consideration for funding to those who place emphasis on accessibility, we can't wait to see what gets released in the future.
This is Agent Aiden, signing out.
Android, development, game, Games, indie games, inspiration, iphone games, milestones, The Voxel Agents
2 Comments | Posted by Agent Simon in Art, Game Ideas, inspiration, making games, Puzzle Retreat, Top Secret
In 2011 we made loads of prototype games; some small, some funny, some that sucked, almost all ugly (except the lucky few that receive Tian's touch

). Here's a visual tour of 20 of the 24 games that we made in five months. Together they paint the picture of what Voxel Agent games look like when they're born – a mish-mash of squares, circles and terrible colour schemes!
art, development, game, Games, indie, indie games, inspiration, play, playtest, prototype

0 Comments | Posted by Agent Tom in 48 hour game comp, award, Game Ideas, Games, inspiration, making games
Last weekend, we competed in the #fab48hr game making competition in Brisbane, Australia… and what a wild weekend! We won! That was great, but more importantly I was absolutely blown away by the quality of games made by the other teams. I was particularly impressed with the level of quality and polish that was developed in "indie" / student room. There is an enormous amount of talent in Australia and I'm sure we're going to see more from those awesome young developers.
In the #fab48hr competition, each team must concept, design, and create a game based on three keywords that are provided at the beginning of the competition. This year, those words were "suit", "key", and "badger", provided by Yug, Hex, and Jinx.
We made this:
Download the game we made here [WINDOWS] or if you use a Mac, try this link [MAC].
How to Play: Without giving too much away, if you have a couple of XBox controllers, plug them in for the best experience, using "A" as your action button. If you have to use a keyboard, you can use the arrow keys for player 1 and WASD for player 2, with "shift" as the action button. Also be aware the the glowing yellow floor (which totally looks like lava) will kill player 1 and the swirling blue circles (evidently poisonous gas…) will kill player 2. That's all you really need to know… oh yeah one more thing: the badgers aren't nice and they will eat your face.
The Badgers of Fury 161 was developed by the Alliance of Indie. This team was composed of developers from a number of Australia's top Indie studios including yours truly Agent Tom (The Voxel Agents), Liam Hill (Defiant Development, 3 Blokes Studios), Cratesmith (Cratesmith,Defiant, Strange Loop), Matt Ditton (Queensland College of Art, Defiant), and the incredibly talented Milenko (Strange Loop,Defiant).
But really, kudos where kudos is due:
As proud as we are of the game we managed to make in 48 Hours, the real winners of the competition were the indie team Rockin Moses (read about them here: http://making-games.net/48/?p=2916) who made a really fun game called The Fifth Suit. 
This game was great fun to play. For me, their game evoked "Smash Brothers Brawl". While playing, I was less concerned about winning and more concerned about trying to make life difficult for my opponents. It was a strong social experience and quite a polished product for just 48 hours of work! You can grab a PC version of their game here [WIN] but it's best played with XBox controllers. If you're lucky enough to have some XBox controllers then I strongly suggest you get this version [WIN - XBox Controllers].
3 blokes, alliance, award, cratesmith, defiant, development, fab48hour, fab48hr, Games, indie, indie games, inspiration, preview, prototype, strange loop, strangeloop, The Voxel Agents
0 Comments | Posted by Agent Simon in inspiration, making games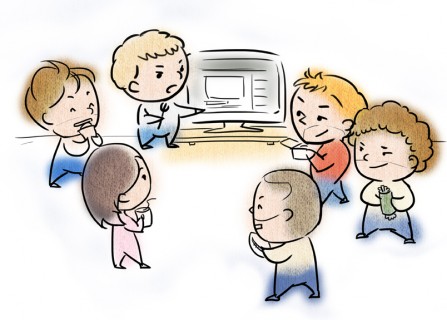 We need to learn to communicate our creative ideas better as a team! We figure that since our diverse life experiences and inspirations shape how we dream up and explain our ideas, we should share more of them with each other. Voila! Voxel Afternoon Tea was born. During Voxel Afternoon Tea we share something that has inspired us recently, and let the discussion begin…
You can also check out the first Inspiration Session from a few weeks ago.

6 Comments | Posted by Agent Tian in Game Ideas, Games, inspiration, making games, Misc
Agent Henrik is cutting paper boards for our next game! Guess what kind of game it is!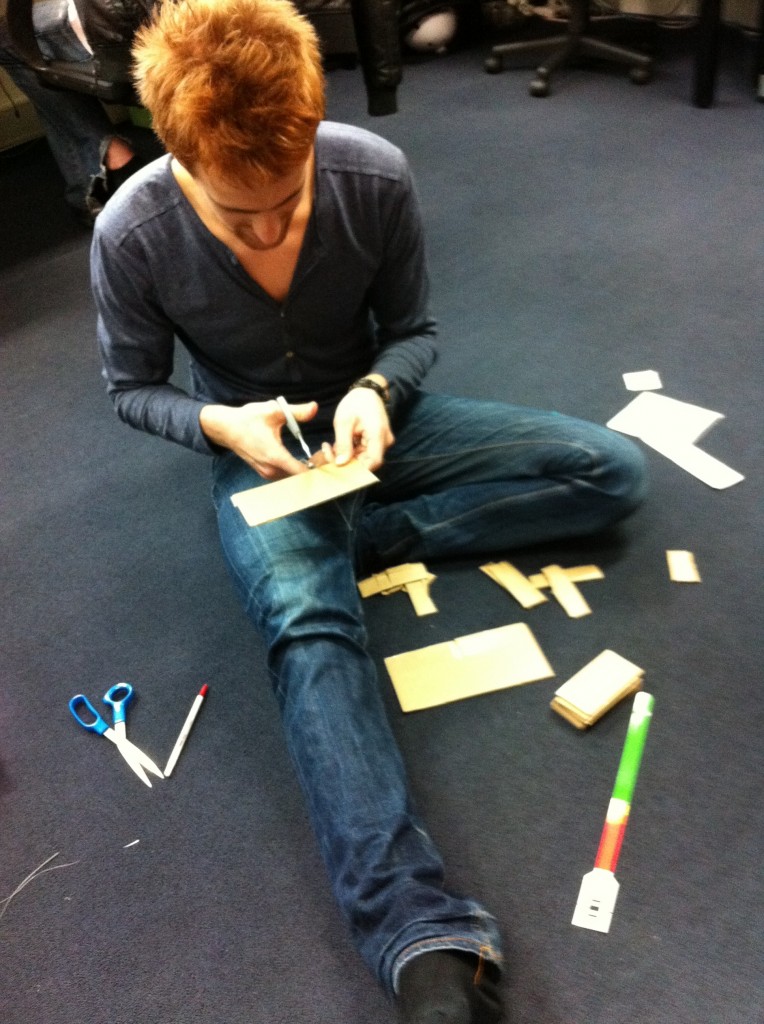 coming soon, development, game, Games, henrik, indie games, inspiration, iphone dev, iphone games, The Voxel Agents

1 Comment | Posted by Agent Tian in Art, Game Ideas, inspiration, Misc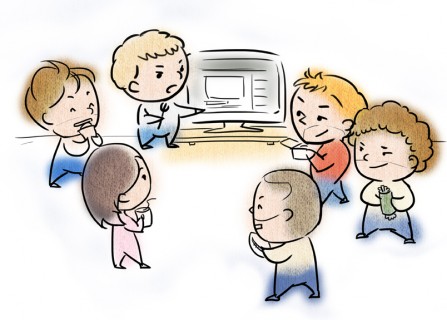 The Voxel Afternoon Tea! Sound's awesome, doesn't it?
As creative individuals we are always producing new ideas, but how can we continually produce without also absorbing ideas?
So, we came up with this idea of holding an 'afternoon tea' session every Friday lunchtime. During tea each Agent shares something that they have recently discovered or found interesting and we all discuss.
We thought you might be interested to check what each person shared!
Name: Agent Matt
Material shared: Not Tetris 2
Play it on: http://www.stabyourself.net/nottetris2
Reason for sharing: I think it's an interesting subversion of a classic game. The 'broken-ness' of it just works, and it is self documenting.
Henrik: I'm impressed of the product. It's been taken way beyond what he needed to show the concept. I'm not entirely sure what the developer is trying to tell or show us more than that its works but regardless I'm impressed.
Simon:
I like how the whimsical controls match the developer's attitude in destroying a classic

Tom: Subversive! Loved how he broke the rules of tetris by making the blocks not behave the way they should, but the players objective remained the same. I'd love to see someone clock this game (see http://www.youtube.com/watch?v=keeSEJG4XzU).
Tian: It's interesting to watch it, but I don't think it will be as enjoyable as the original Tetris…
Ramsey: Great Rehash on a classic, lovin it bro

Name: Agent Henrik
Material shared: Amnesia Dark Descent Gameplay Video
Reason for sharing: Along with Limbo, Amnesia was the best game I played last year.


Reflection
Matt: Watching videos of people's reactions is always interesting. It's incredible just how psychologically hooked people can get, even though they can just walk away at any time.
Simon: Amnesia looks like an horrifying ride and I want to take it


Tom: I need to play this game, but after watching that video I also need to play it on skype with Simon.
Tian: I was worried at first when you told me it's going to be scary, because I tend to scream if I see something scary. But I didn't and it was kinda confusing… and funny. However I still would not play the game, just because it's a scary game and I've experienced enough scary things.
Ramsey: Looked fantastic, I'll get on it as soon as I grow a pair to play horror games lol. It seems the developers really understood how to manipulate the emotions and fear of the player and tweak it to ALMOST the point of snapping.
Name: Agent Simon
Materials shared: Live coding!
Reason for sharing: These guys inspired some of my final year work at uni and have been an ongoing inspiration. I like the idea of using a computer as an instrument, and not just to play samples, but to use it's logic to generate interesting melodies on the fly.
Reflection
Henrik: Much admiration to the people who travel in new direction of creativity. Extra interesting since it's an area I too wish to explore.
Matt: Code as performance is awesome!
Tom: Loved the performative aspect of this. Reminded me of conditional design more than generative design.
Tian:
It's always amazing for me when someone can do both art and programming. They would have some really symmetrical looking brain I think.

Ramsey: Future sailors, taking retro to its logical conclusion! Boosh aside, this looks really cool and I'd love to see where these guys end up creatively in a year or two's time. It seems to me that once they master their tools ( which they created lol ) they will definitely come into their own.

Name: Agent Tom
Material shared: We are the Strange (trailer).
Reason for sharing: Striking visuals and an amazing story. I love how it combines so many different types of visual elements and twists them into an unholy creation of amazing awesome.
Reflection
Henrik: Don't know if I'd enjoy the movie but will see it because of it uniqueness. If we did not have creations like these our culture would be very dull.
Matt: Crazy video, I imagine it would have been very difficult to juxtapose all of the various techniques.
Simon: I don't know whether I like his commitment or his craziness more.
Tian: Interesting find, I would love to know how he can afford to make such a long movie by himself. 18 months of production time doesn't sound like a long enough period for making a good quality movie to me. Also I would love to know how he promoted and sold it, I think it's really hard to market this kind of film.
Ramsey: Really cool animation man, I can't wait to pull out the popcorn and anti-seizure pills and let it siege my senses.

Name: Agent Tian
Material shared: Get Out – Animated Short
Reason for sharing: Awesome story and imaginative visual style, and the concept is very funny yet heartwarming. Best animated short I saw at MIAF so far this year.
Reflection
Henrik:
Fantastic short by people with skills and understanding that goes beyond animation goodness. I think the isolation cell metaphor worked for the most part. The additional details noticed through a second screening were few but impressive.
Matt: Great surprise ending. I was starting to feel really sorry for the guy. Sometimes you think if people can be happy in their own head-space, why should we force them to change? I think this video shows why.
Simon: Cleverly French.
Tom: Great animation. Interesting world. I didn't actually like the ending. It made everything ok and nice and fine in the world… to me that's as good a story device as "it was all a dream". Nice twist in the tale though, I'll give it that. Animation: 10 points.
Ramsey: Really great little short, beautiful animation and characters, im glad you shared this with me, I will definitely be showing this to my friends!
Agent Ramsey shared a top secret idea, so will remain in the vault

Where do you find your best sources of creative inspiration? Please post in the comments any interesting things you've found on the internet as we're really interested to see what inspires you.
animation, art, game, Games, indie games, inspiration, play

8 Comments | Posted by Agent Henrik in Game Ideas, Games, making games, Top Secret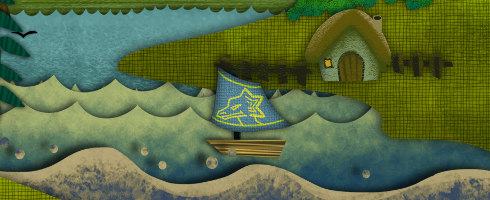 PLAY
This prototype is one in a series of time mechanic puzzles we've been exploring recently. Tian and I created this prototype and with some additional coding help from the other Voxels. It progressed from concept to prototype in just three days. While this concept as it stands will probably not be something we develop further, it has spawned some very interesting derivative ideas and creations.
I particularly believe in the navigation controls and we've been developing some quite special with them. Hopefully we'll be able to show you this in the near future.
Time-Travel Treasure Hunt is a an observation-puzzle game where the players goal is to locate stars which are hidden in a scene. The scene changes over time, playing back a simple story, and the player can follow the events from start to finish or can reverse and scrub time however they please. As the scene unfolds, objects and patterns will collide and overlay each other to form a star-shape. The player must observe these shapes, and click them at the right moment to identify where they are hidden.
Here's an example of 3 animated shapes dancing and having an absolute blast in the snow. Can you see when they align to form a star?
Click the link below to play the game! Rules:
Locate the stars in the animation and click on them when you spot them. We don't mean the obvious stars in the night sky, but the hidden stars formed by shapes and patterns, as well as pink stars.
Use the scrubber to scrub time backwards and forwards, and use the arrow keys to jump a single frame at a time.
Pink stars will briefly appear for just a split second and it's only possible to click them when they are visible.
Other stars have been cleverly hidden in the environment and take shape when objects align.
There a total of 10 stars. See if you can find them all. Click here to play:  Time-Travel Treasure Hunt [35 MB]
animation, art, game, henrik, inspiration, play, prototype, stars, tian